With 22 recordings as a leader with such jazz legends as:

Kenny Barron, Barry Harris, Tommy Flanagan, Pepper Adams, Jimmy Knepper, Jack McDuff, Mickey Roker, and Al Harewood,

Joshua Breakstone has established himself as one of the major jazz guitarists of our day.

Joshua has toured Japan twice a year for the last 30 years, has recorded 4 CDs as a leader for the Japanese King Records label, and posesses a thorough understanding of the Japanese jazz scene.

Joshua is also the author of Jazz Etudes: Studies For The Beginning Improviser, a standard text at many colleges and universities, and has both performed and presented workshops throughout the world.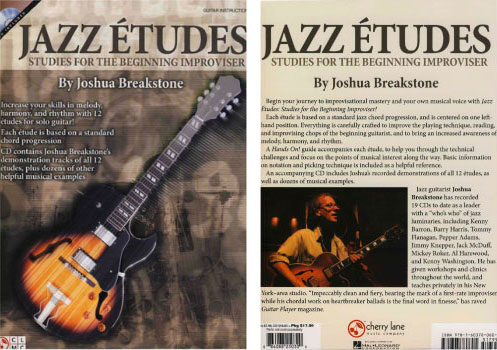 Here is a link to customer reviews of Jazz Etudes on amazon.com.

CLINICS AND INSTRUCTIONS
Joshua is the author of "Jazz Etudes: Studies For The Beginning Improviser", released by Cherry Lane Music and distributed by Hal Leonard, which has become a standard text at universities throughout the world.
He's a perennially booked private teacher, has been an educator for more than thirty years, former music faculty at The Rhode Island Conservatory of Music (Providence, RI), and has conducted workshops and masterclasses at music schools and universities throughout the world including:
The University of Hiroshima
Nagoya (Japan) University of The Arts
Roots Music School (Tokyo, Japan)
Jams Music School (Montpellier, France)
Music Halle (Toulouse, France)
The University of Alberta (Alberta, Canada)
Montclair State University (NJ)
Central NY Arts Foundation (Syracuse, NY)
The Cincinnati Conservatory of Music (Cincinnati, OH)
Cuyahoga Community College (Cleveland, OH)
Bowling Green State College (Bowling Green, OH)
Capital University (Columbus, OH)
Western Illinois University (Macomb, IL)
Kansas State University (Manhattan, KS)
The University of Wisconsin (Wausau, Wi)
The University of Miami (FL)
Jacksonville University (FL)
The University of North Florida (Jacksonville, FL)
Bellermine College (Louisville, KY)
Duquesne University (Pittsburgh, PA)
Broadway Music School (Denver, CO)
Old Town Music School of Folk Music (Chicago, IL)
The Centrum Workshop (Port Townsend, WA)
Eastern Illinois University (Charleston, IL)
The Public School Systems of New York City, St Louis, MO, and Pittsburgh, PA.

"In teaching, either in clinics or individually, I describe to students the progression we make as jazz musicians, starting with learning to improvise, to invent melody over any harmonic terrain, which could be a lifetime of work right there. But when we take a step back, it dawns on us that to become an improviser is not really to have accomplished anything at all- after all, the goal in jazz is self expression and the development of a unique voice, to say something in one's own way. It's only in taking this leap-from being an instrumentalist who improvises to being a musician who uses improvisation as a means of communicating- that we go from being essentially craftsmen, to becoming artists. I don't worry about trying to be this thing or that other thing, my idea has always been to try and say something straight from my heart. It's always been my conviction that if you say something unique, in your own way, and honestly, there will always be an audience for you, you'll always be all right."


Description of a workshop entitled: "Saying it: Developing your own musical voice"
Having something unique and special to say, and saying it in one's own way, with one's own voice is the ultimate achievement in jazz. The dynamics we use in speaking are literally the same dynamics which allow us to communicate on a deep level and in a unique way in music. We'll explore applying the dynamics of the voice- the dynamics of speech- to jazz improvisation and see how each of us can use these dynamics in our own unique way to develop a unique musical voice. All this will be discussed within a framework of jazz history, and we'll also delve into ideas about repertoire, practicing, traps and pitfalls which are intrinsic to the guitar itself, how to listen to jazz, the functioning of the rhythm section, etc. Examples will be demonstrated and, hopefully, workshop participants will participate as well- bring your instruments!